3-20-23
The original art for my New Yorker cartoons is on sale through Curated Cartoons!
7-25-22
I'm thrilled to announce the launch of my new syndicated comic strip Home Free! It's the comedic chronicle of one family's never-ending quest to remodel their house. Published by Andrews McMeel. Follow it on GoComics to get the latest strips, and on social media for bonus content! Instagram @homefreecomic 
4-8-22
Had a super fun interview with The Imagine Neighborhood & Count Vacula! (Listen to find out what cat whiskers *really* are…)
4-5-22
I'M TERRIFIED OF BATH TIME comes out today!
"A visual (and comedic) feast for budding smart-alecks."
—Patton Oswalt
"Along with offering a bit of bathroom behavior modification, this is, undeniably, storytime gold for young audiences large or small."
—Booklist, starred review
"This delightful picture book turns the widespread phenomenon of toddler bathtime fears on its head…The book's skillfully crafted storyline will appeal to children as well as adults working to avoid meltdowns when little ones have a wash. … A refreshing, amusing approach to overcoming ablutophobia in small children."
—Kirkus
6-11-21
I drew a comic for the New York Times about my wife running a regional theater (and our family!) during covid-19. It's online starting today, and it will appear as a full page in this Sunday's Arts & Leisure print edition.
4-14-21
New cartoon prints! A deluxe limited edition of my most popular cartoon "Yes, the planet got destroyed" is on sale now at Cartoon Collections. Giclee printed, eco-friendly Hannemuhle hemp archival paper, acid-free and ph-buffered, hand-signed and numbered, includes certificate of authenticity.
7-17-20
A great review in Publishers Weekly about the new book I illustrated, A USER'S GUIDE TO DEMOCRACY.
"An informative and appealing civics lesson for first-time voters and old hands alike."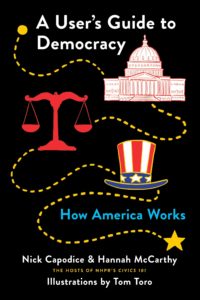 4-25-20
I did an interview with Cartoon Collections about the journey behind creating my first children's picture book HOW TO POTTY TRAIN YOUR PORCUPINE.
9-3-19
Read my New York Times piece about attending the Berkeley Repertory Theater Ground Floor summer residency to develop a musical comedy adaptation of my unpublished graphic memoir YES, THE PLANET GOT DESTROYED.
4-18-17
My new book of Trump cartoons TINY HANDS is available for pre-order!  Buy it now before he's impeached.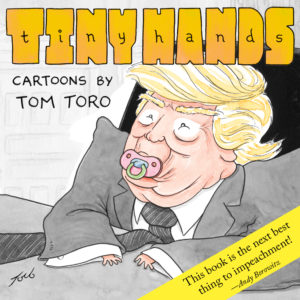 2-17-17
The Huffington Post wrote an article about my Trump-Nixon cartoon and its role in the growing sense that we're careening toward another Watergate.
1-4-17
Late Night with Seth Meyers dramatized one of my X-Mas cartoons!
The whole segment including other cartoonists' work brought to life can be seen here.
12-20-16
A Trump cartoon of mine is part of the online exhibition Unnatural Election, where artists from around the world respond to our political crisis.
10-23-16
Bob Mankoff's autumnal Cartoon Lounge episode features my leaf blower cartoon.
9-29-16
Some of my best original cartoon art is being auctioned at Swann Galleries TODAY Thurs 9.29 at 1:30pm EST!
8-11-16
The September issue of The Harvard Business Review features a new cartoon of mine.
7-19-16
The original artwork for several of my NYer cartoons will be auctioned at Swann Galleries on September 29, 2016, along with pieces by Charles Addams, William Steig and Dr. Seuss.
5-10-16
I have two cartoons featured in the Society of Illustrators Comic & Cartoon Art Annual exhibition – "God's Reading Light" and "Fly Fisherman."  They're framed and fancy and in a freakin' gallery!  Show open from May 3 – June 11, 2016 in NYC.
4-22-16
My Trump cartoon makes a brief cameo in this episode of The Cartoon Lounge.
4-19-16
A cartoon of mine is featured in the May 2016 issue of The Harvard Business Review.
12-19-15
I did an interview with the Center for Biological Diversity and created an original cartoon for their Pop X program.
12-18-15
TNY editor's picks for the best cartoons of 2015 is out, including a modest offering from yours truly.
12-15-15
It's been brought to my attention that a cartoon of mine is featured in TNY's Readers' Favorites slideshow.
10-20-15
I'm the latest cartoonist to be interviewed on the wonderful blog A Case For Pencils.
10-14-15
The original artwork for one of my most popular cartoons is being auctioned at Paddle8.com until Oct. 27th.
10-12-15
Our local TV news station was so excited about my KC Royals drawings they came to interview me on camera.
10-11-15
I drew a series of baseball sketches for The New York Times covering the Kansas City Royals.  View the slideshow.
10-3-15
A writer at The Atlantic, James Fallows, considers jumping ship to The New Yorker based on the strength of one of my cartoons.  Curious which?  Read the article here.
10-2-15
In an episode of The Cartoon Lounge, Bob Mankoff uses a rejected pitch of mine to discuss why "meta" cartoons aren't often published in The New Yorker.  Bittersweet, but somehow flattering.  Have a look-see.
9-6-15
A cartoon of mine is cited in the Stockton Record to describe the perils of rewriting history.  (Just to set the Record straight, the cartoon originally appeared in Litro magazine, not The New Yorker.)