BACK TO SCHOOL, BACKPACK!
My second collaboration with Simon Rich.
Published July 11, 2023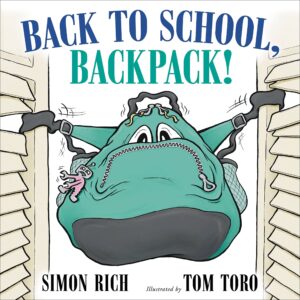 A wonderful Publishers Weekly review for BACKPACK! — "Sure to boost readers' confidence as they navigate their own classroom return."
An excellent Kirkus Review of BACKPACK! — "In Toro's exaggerated cartoon illustrations, the backpack is wonderfully expressive, its eyes and zipper mouth conveying panic, nausea, a longing to belong, and, finally, happiness."
Another great review from the Bulletin of the Center for Children's Books: "A charming reassurance to young kids that the first day of school is scary for everyone, including backpacks, and they do not have to carry their worries alone."
I'M TERRIFIED OF BATH TIME
I illustrated Simon Rich's first children's book!
It's available to order now!
Published April 5, 2022
HOW TO POTTY TRAIN YOUR PORCUPINE
Check out my debut children's picture book!
Get it on IndieBound or Amazon.
Published May 12, 2020
A USER'S GUIDE TO DEMOCRACY
I illustrated this fun, informative civics crash course written by the hosts of Civics 101.
"An informative and appealing civics lesson for first-time voters and old hands alike."
―Publisher's Weekly
Get it on IndieBound or Amazon.
Published September 8, 2020